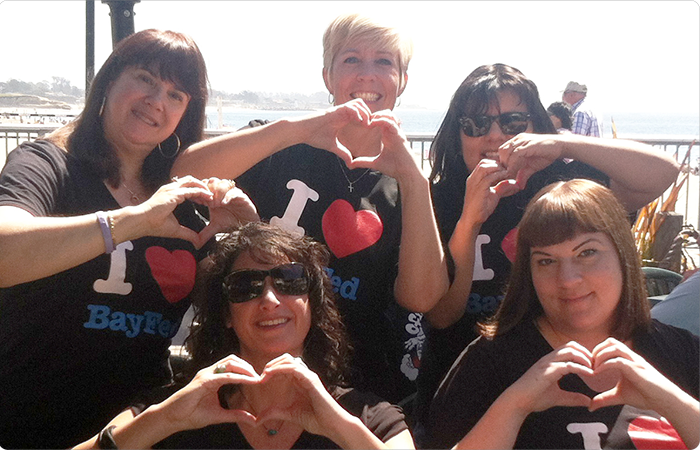 Health & Wellness
In addition to our excellent benefits package, which includes medical, dental, vision, and life insurance, Bay Federal also offers employees pet insurance, and fitness discounts for local gyms. Bay Federal hosts an annual Wellness Fair and also offers employees the opportunity to participate in our incredible, inclusive wellness program.


Financial Well-Being
Not only does Bay Federal offer competitive pay and 401(k) matching, but we also provide opportunities for our employees make the most of their money, including.
Online financial literacy resources
Loan discounts
Free, confidential financial budget and credit counseling


Professional Development
We know our employees' expertise helps us serve our members better. That's why Bay Federal is committed to its employees' pursuit of professional and career development, and why we offer several avenues for our employees to grow their skill sets.
Online & In-Person Classes
Bay Federal partners with the state Credit Union League to provide employees with access to industry-standard classes via webinars, and it facilitates LinkedIn Learning access for those who wish to learn non-industry-standard skills. Our in-house training department also provides training for different departments throughout the year.
Incoming branch staff are paired with seasoned team members to ensure a seamless on-boarding process and continued personal improvement. For more experienced team members, 1-on-1 coaching is also available.
Mac McCormac Employee Scholarship
Each year, Bay Federal accepts applications for the Mac McCormac Employee Scholarships and awards $1,500 for post-high school college and career education expenses to those selected.
BayFed University
Bay Federal Credit Union is proud to offer a leadership program in partnership with Cabrillo Supervisory Academy! BayFed University incorporates the dynamic 12-week Cabrillo College Supervisory Academy curriculum along with a strategic project that promotes and celebrates the culture of Bay Federal!
BayFed University is designed for up-and-coming managers and supervisors. We have been proud to offer this program since the Spring of 2014!
Projects Developed by BayFed University Graduates:
Managing By Colors – Understanding and Celebrating our Employee Characteristics
Our House – Promoting Exceptional Internal and External Member Service
Career Exploration – Discover New Possibilities
BayIDEAs – Help Implement Efficiencies & Increase Member Service Levels