Authorities are seeing a spike in card skimming in our area. Card skimming is where thieves use hidden electronics along with surveillance technology to collect your information, such as your card number, security code, and PIN.
The thieves may use that information to make unauthorized purchases, or they may manufacture a physical card that they can use at an ATM with your PIN to drain your accounts.
Card skimming is extremely difficult to detect at gas stations, ATMs, and other places where you might swipe your card, but there are steps you can take to help protect yourself from a security breach and the headache.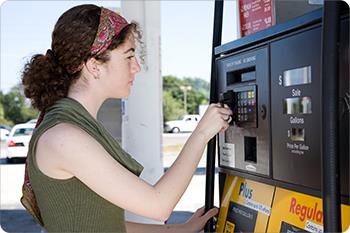 1. Protect Your PIN – Choose Credit!
When you have the option, always swipe your debit card as credit to avoid using your PIN.
If you must enter your PIN, always cover the keypad with your hand when you input the numbers.
While new chip card technology, which Bay Federal is introducing in early 2017, will help with fraud protection, your PIN can still be compromised. Choosing credit for purchases and blocking the keypad at the terminal when entering your PIN should always be done no matter what type of card you have.
2. Avoid Using or Be Wary of Unattended Terminals
Terminals that are unattended, such as gas stations, parking kiosks, and ATMs can be the most vulnerable for skimming devices.
Be alert at gas stations that are isolated and do not have an attendant on duty. If anything seems out of the ordinary with the pump or machine, go inside.
If you must use your PIN, go into the gas station or speak with the parking attendant, and if you have to use an unattended terminal, try to choose ones in well-lit and highly visible areas.
3. Look Out for New Bluetooth Skimming
A new form of card skimming where Bluetooth devices are placed inside gas pumps and ATMs is on the rise. These devices allow thieves to stand near a hacked terminal with a smartphone and retrieve sensitive card data.
If you are using an unfamiliar terminal, we recommend using your smartphone to scan for a Bluetooth signal before using it and being aware of anyone monitoring their smartphone nearby.
4. Familiarize Yourself with ATMs
If you can use the same ATM, you are more likely to notice if anything is out of the ordinary. Also, research has shown that 75% of ATM skimming devices are found at off-premises ATMs, meaning those at branches within sight of security cameras and staff are safe than one you might pass by on the street.
If you think a card reader may have been altered, do not use it. Look for tape residue, loose parts, and pry marks, as well as difficulty placing your card into the ATM. It is important to alert staff, if available, or to contact authorities if you think there is potential fraud taking place.
5. Respond to Fraud Alerts
Bay Federal has technology in place to help prevent potential fraud. Account owners will receive automated phone calls if there is suspected fraud on your card. Responding to these alerts is important to ensure that fraudulent transactions can be identified quickly.
6. Check Your Balance Frequently
We have a system in place to identify suspicious activity on your account, but no one knows your spending like you do. Check your account transactions as often as you like with the BayFed Mobile App, which is available for iPhone and Android, and report any fraudulent activity on your account immediately by contacting us through BayFedOnline or calling 831.479.6000 or 888.4BAYFED.
7. If You Suspect Fraud, Replace Your Card Immediately
If you suspect fraudulent activity, visit a branch as soon as possible during normal business hours, or call Bay Federal's Member Service Center at 831.479.6000 or 888.4BAYFED.